The secret for rolling gate security reinforcement is regular service and Intercom System installation. There are surely many options on the market for every rolling gate and you will find the assistance as well as services of "Gate Repair Westchester" valuable. We take pride of our amazing technical teams and rest assured that every single technician of our gate repair company is trained extensively and totally familiar with the newer intercom systems. Working with the largest intercom manufacturers for years and following their work closely in combination with our training makes us really capable for the installation and repair of all intercoms.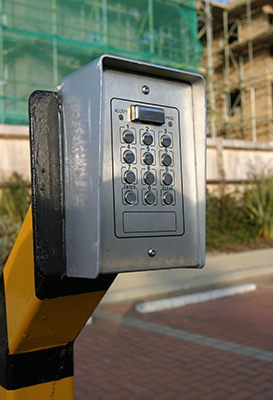 Modern intercom systems for all
These days, technology helps people achieve everything they have dreamed about for years. Your Intercom System will certainly provide great convenience to your whole family as much as to hundreds of employees of a multinational gated corporation or a gated residential community. There are multiple systems on the market and with the help of our staff you can pick the best to satisfy your demands and cover your needs. At the least, you will be able to recognize who is standing at the automatic roll up gate. You can have a conversation with the visitor, let him in or deny him access.
Our company installs phone enter systems, which will be connected with your phone line and allow you to use one button to let visitors in. Do you want to enter through your automatic rolling gate with ease? Each tenant can have his own access code and we can program as many codes are necessary for each property. Do you need temporary codes for visitors? We can still make it happen. The most important thing is that we can install all these systems any time you wish and with the greatest specifications.
Gate Repair Westchester definitely has amazing, new age equipment for all installation and repair services of intercoms. Whether you need intercoms for your home, gated building or commercial rolling gate, you can be certain of our ability to install and repair it. Call us today and we can talk further!